---
---
The Cypress is a freeride design for riders who like their lines a little more rowdy and their playgrounds bigger. We've created a powerful binding by stiffening our exclusive System X Baseplate with double the fiberglass; adding a lighter, stiffer and more laterally supportive highback; and beefing up the outsole. That translates into high-speed, big-mountain performance.
For riders tired of soft and wimpy bindings, we introduce the Arbor Cypress Snowboard Bindings. These binders feature a version of Arbor s X-Drive baseplate that's beefed up with a higher fiberglass content for big power and drive on aggressive lines. A stiff highback and thick outsole provide a more bolstered freeride support for rowdy attacks on big mountain steeps. If you like watching the world blur past you and love the path less taken, check out the high power, high performance Arbor Cypress Snowboard Bindings.
Baseplate
System X Baseplate with Fiberglass Reinforcing – The Cypress features 30% glass content for a stiffer, more powerful feel.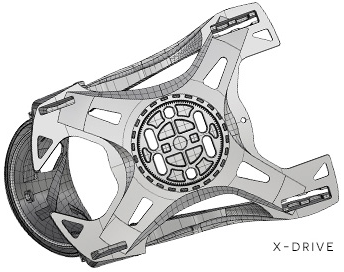 65A Durometer Outsole – The Outsole is a dampening interface made from a special TPE rubber. The Outsole integrates with the System X design and sits between the binding and a rider's snowboard. The Outsole diffuses high-frequency chatter while providing rebound and cushion for high-impact landings. On the Cypress, Arbor uses a slightly stiffer durometer TPE for added performance.
2 XD Footbeds – The Cypress Bindings feature a dual-density footbed design that provides impact absorption, comfort, durability, and improved feel. The topside of the footbed is made with a firmer material that provides durability and a more tactile interface with a rider's boot. Under the ball and heel area, Arbor added impact absorbent EVA pods that interface directly with a rider's snowboard to improve board feel while adding cushion for landings and hard snow conditions.
Highback
Asymmetrical Highbacks – Arbor bindings feature low mounted asymmetrical highbacks with 5° pre-rotation, providing ergonomic feel and freedom of movement.
Tool-less Forward Lean Adjustment
Straps
Bow-Strap Adjuster – Arbor's patented "Bow-Strap" adjuster and ladder strap swings out of the way quickly and easily, making binding entry a simple, user-friendly experience. The pre-curved strap steers clear of your boot while maintaining form and durability in even the coldest conditions.
Buckles
Cast Aluminum Buckles & Levers – New for 2019, Arbor's upgraded buckles offer clean, ultra reliable performance, long-term durability, and a tighter, stronger click for unparalleled boot to binding connection.
Additional Features
2x4 and Channel Mini-Disk – Mini-Disks require less surface area and along with the System X help provide a more organic snowboard flex underfoot. They are channel compatible.
Adjustable Aluminum Heelcups – Highly durable extruded aluminum, designed to work with the Mini-Disk for amazing adjustability. Use the highback to center the foot and the disk to fine-tune your stance width.
---